SORDID & SACRED: THE BEGGARS IN REMBRANDT'S ETCHINGS
SEPTEMBER 21 - JANUARY 19
BETH MOON - ANCIENT SKIES, ANCIENT TREES
The artistry of the western paperback
FEBRUARY 15 - MAY 25
THE ART OF RUBE GOLDBerg
SEPTEMBER 15 - NOVEMBER 26
AlphonSe Mucha
JUNE 2 - AUGUST 27
Treasures from the trove
February 16 - May 29, 2017
David Hockney: Six Fairy Tales
June 9 - September 2, 2016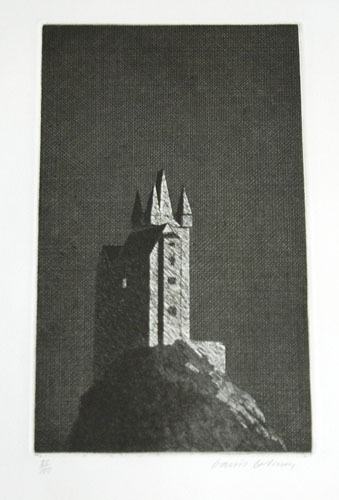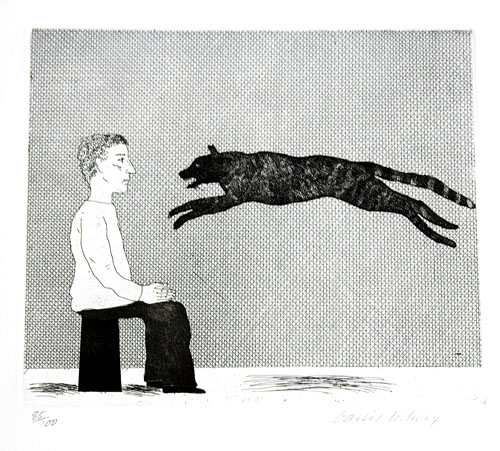 In 1970 David Hockney and Petersburg Press released Six Fairy Tales, a compilation of 39 etchings and the texts of Jacob and Wilhelm Grimm's fairy tales, including: The Little Sea Hare, Fundevogel, Rapunzel, The Boy Who Left Home, To Learn Fear, Old Rinkrank, Rumpelstilzchen.
In this exhibition of 39 etchings illustrating the 6 fairy tales from the Brothers Grimm, Hockney has given each fairy tale his own interpretation. Rather than illustrating the stories literally, he has chosen vivid images to encapsulate a mood or detail. Some of the tales are familiar, like Rapunzel and Rumpelstilzchen; others, such as Old Rinkrank, Fundevogel and The Little Sea Hare are little known.
The tales are drawn from centuries of folklore. As Hockney points out: "The stories weren't written by the Brothers Grimm... they came across this woman called Catherina Dorothea Viehmann, who told 20 stories to them in this simple language, and they were so moved by them that they wrote them down word for word as she spoke."
His contemporary and often humorous approach to the tales is reflected in the quirky nature of the images. Of Rapunzel he says "... the stories really are quite mad, when you think of it, and quite strange. In modern times, it's like the story of a couple moving into a house, and in the next door's garden they see this lettuce growing: and the wife develops this craving for the lettuce that she just must have and climbs over to pinch it, and the old woman who lives in the house next door says well, you can have the lettuce if you give me your child, and they agree to it. And if you put it into terms like this and imagine them in their semi-detached house agreeing to it all, it seems incredible."
MORT KÜNSTLER: THE ART OF ADVENTURE
SEPTEMBER 3 – NOVEMBER 21, 2015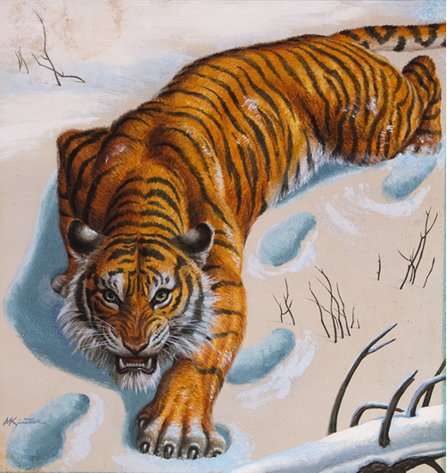 If an artist's life reflected what they put down on canvas, you might assume Mort Künstler has lived one fascinating adventure. Known today for his meticulously researched historical paintings of such subjects as the Civil War, Künstler is also a prolific illustrator, who has worked on a broad spectrum of assignments in different genres for over 60 years. The Citadelle Art Foundation is excited to present an exhibition that explores Künstler's vast and highly-regarded body of work as an illustrator and historical painter—"Mort Künstler: The Art of Adventure" was on view at the Museum from September 3 through November 21, 2015.
"Mort Künstler: The Art of Adventure" presents the first thorough retrospective of the artist's career—from paperback book jackets and men's adventure magazine illustrations, to movie posters, model kit boxes, and advertisements for prominent corporations. Künstler's dramatic images, conceived in every possible genre, will be the focus of the exhibition. His romance, war, and sporting illustrations for "True," "Argosy," "The Saturday Evening Post," "Sports Afield," "Outdoor Life," "American Weekly," "Men's Story" among others, and his contemporary historical paintings that capture the heroes and battles of the American Civil War, will be on view. The exhibition will document the artist's transition from traditional illustrator to historical narrative painter, whose limited edition signed prints have attracted a large and appreciative audience. Künstler's artistic influences, which include Winslow Homer, Frederic Remington, N.C. Wyeth, and Norman Rockwell, will be explored and represented in the exhibition, as well as childhood drawings that chart the development of his considerable artistic skills.
PAN: A GRAPHIC ARTS TIME CAPSULE OF EUROPE 1885 – 1900
JUNE 11 – AUGUST 22, 2015
An exhibition of the images used in the world's first Arts Magazine. On exhibit are 70 framed works taken directly from this century old publication. Artists include Rodin, Paul Signac, and Kathe Kollwitz.
Curated by Robert Flynn Johnson and organized by Landau Traveling Exhibitions, Los Angeles, CA.
See the 70+ pieces that will be included with this show here.
AMERICAN PERSPECTIVES ON MODERNISM
FEBRUARY 12 – MAY 23, 2015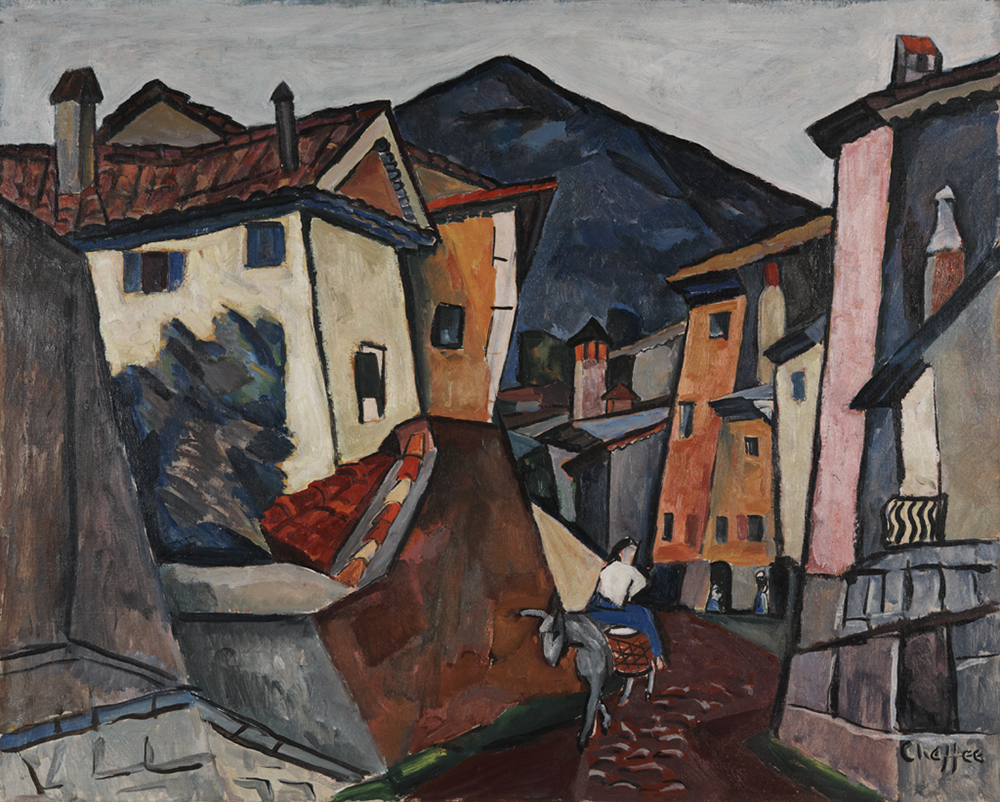 The Modernist dictate was to "make it new," to look beyond appearances for an essential truth in things. Honest, forthright expression was a longstanding American artistic tradition, and American Modernists felt even the most ordinary things could be transformed through fresh eyes and the imagination. Marsden Hartley's Fruit Basket is anything but a "still life." After reducing its contents to what he perceived as their essence, they emerge as powerful forms surrounded by surging energy—more reminiscent of rocks and waves than a basket of fruit.
The American landscape—both urban and natural—inspired many artists. The rising skyscrapers of New York and the rocky coast of Maine equally obsessed John Marin. In New England seaport towns, Stuart Davis discovered the fascinating structures of ships and wharfs framed by the expanse of sea and sky. For artists such as Miklos Suba and Charles Sheeler, it was the clean, modern forms of industry that suggested a new abstract beauty on a vast scale—the American equivalent to Greek temples and Gothic cathedrals.
Perhaps Yankee rugged individualism and a love of the nuts-and-bolts aspect of reality are the qualities that most distinguish American artists from their European contemporaries. "Put off intellect and put on imagination," wrote Marsden Hartley. Rediscovering and reaffirming the experience of an emerging nation, these artists brought an American perspective to the Modernist imperative to "make it new."
Drawn from the KIA collection, this exhibition includes works by American modernists including Stuart Davis, Marsden Hartley, John Marin, Charles Sheeler, Max Weber and others. Responding to the artistic developments in Europe, these artists sought new ways to picture the rapidly changing times of the early 20th century.
SONGS OF THE PATRIOT
AUGUST 21 – NOVEMBER 23, 2014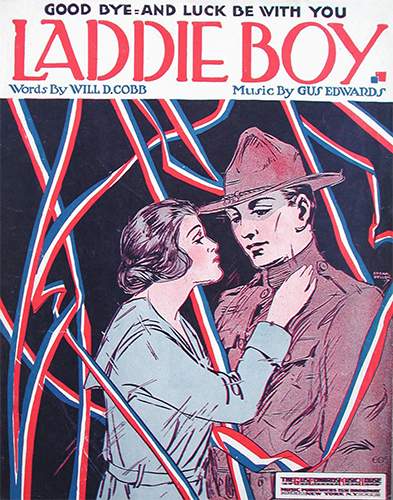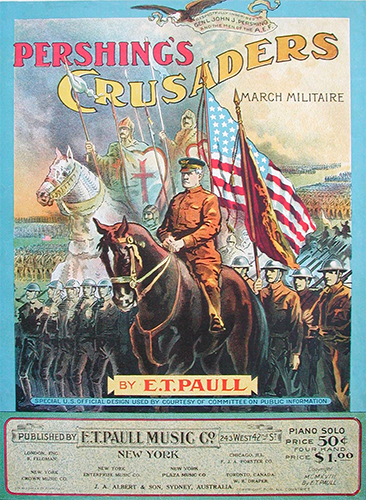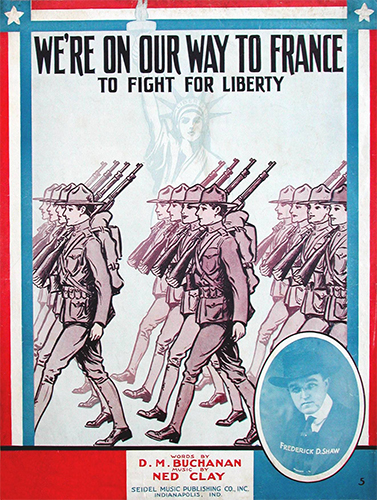 The Citadelle Art Foundation explores the sentiments of a wartime nation expressed through music and graphics in Songs of the Patriot, an exhibition of World War I & World War II sheet music.
The Citadelle Art Foundation will present a varied and colorful collection of World War I & World War II era sheet music covers from August 21 – November 22, 2014.
Songs of the Patriot revisits the American wartime fronts at home and abroad during World War I & II through the cover art and lyrics of popular sheet music from 1914 to 1919 and 1940 to 1945, respectively. The exhibit explores how music publishers, songwriters and cover artists expressed a range of American wartime feelings- from anti-war statements to supporting troops overseas. It also explores the booming sheet music industry, printing and chromolithography, and the significance of piano playing as an early form of home entertainment.
The Politics of Music
Wartime songs captured snapshots of various American attitudes. Themes ranged from pacifism and neutrality at the beginning of the wars, to the hope of loved ones returning home safely. In addition to the lyrical messages, sheet music covers were the perfect medium for visually interpreting these songs that at times could be serious, sentimental or even comical. Uncle Sam selling bonds, marching soldiers and mothers saying goodbye were among countless images.
Whether driven by personal feelings or meeting the demand of the huge music-buying public, WWI composers and artists were part of a thriving business in which great sums of money were being earned by the music publishing industry. New York City's "Tin Pan Alley" emerged as a major music-publishing center during this period. It is estimated that over 7,000 songs were published during World War I, more than what was produced during the Spanish-American War and World War II combined. Composer George Cohan was paid $25,000 in 1917 for his famous patriotic march "Over There," the highest price ever paid for a song at that time.
During the early years of the First World War, the United States held a position of neutrality seeing the conflict as purely a European war on foreign soil. President Woodrow Wilson stressed the importance of peace to the American people and the need to remain in the role of an impartial mediator. This was difficult for some Americans with ties to Europe and new immigrants who felt conflicting loyalties. They wanted to fight for the people suffering in their ancestral homelands yet also support the peaceful position of their new homeland.
In 1916 President Wilson was re-elected on his neutrality platform but after an accumulation of events, including German submarines torpedoing American ships in 1917, the United States declared war on Germany. This created an immediate need to overcome the percentage of the population that was still against involvement in the war.
In less than a week of the declaration, the government quickly established the Committee on Public Information. Its sole purpose was to change public opinion to favor involvement in the war. It utilized the talents of artists, the Hollywood film industry and government composers known as "Army Song Leaders," who wrote wartime music. A barrage of songs, pamphlets, posters and films that vilified Germany was the result of the CPI's massive campaign.
The CPI also supplied songbooks to theaters and music halls to encourage audiences to sing together in the name of patriotism and to lift morale. The popularity of music and piano playing in the home made music an effective medium to help gain wartime support in both manpower and funds.
As a back cover of sheet music proclaims, "Music will help win the war! A nation that sings can never be beaten..." These kinds of messages were able to spread from home to home through the united voices of a nation.
After the widespread success of songs during World War I, such as "Over There" and "It's a Long, Long Way to Tipperary," the U.S. government had recognized the power of music during wartime. Historically, the role of music often took on greater importance during trying times because of its ability to reach all levels of American society. In the spirit of patriotic propaganda, the government used images and songs to steer the nation's collective mind to boost morale and garner support for the war.
Unique to World War II, the government commissioned and published songs and even officially sponsored song writing contests. In 1942 the War Department's Bureau of Public Relations published a pamphlet titled "Music in the National Effort" providing suggestions for communities to use music to keep spirits high for citizens and departing soldiers. Music was the perfect medium for propaganda, which had become a refined tool by World War II. Knowing this, President Franklin Roosevelt called upon the entertainment industry and its celebrities to help rouse patriotism and mobilize the American people.
Fighting for Victory at Home
Home front efforts were to play an important role in victory. Citizens were called upon to conserve resources, to take on factory jobs producing goods for the military and to help pay for the war.
The Treasury Department used songs and sheet music covers in its campaign to promote the buying of war bonds and stamps. Lyrics urged Americans to, "Scrape up the most you can…buy a share of freedom today." "Everyone can help to win the war… Let's begin investing in the things our country's fighting for."
Covers often had small Treasury logos encouraging Americans to "Buy War Bonds and Stamps for Victory." A "V" for victory symbol and "Minuteman at Concord" figure were typical. Even the back covers of sheet music were used to spread messages, "For Victory, Buy United States War Bonds." By the end of these campaign drives, 8 out of 13 Americans had invested in bonds totaling over $185 billion dollars
As a World War II song proclaims, "Millions of voices are ringing, singing as we march along. We did it before and we can do it again." These kinds of messages were able to spread from home to home through the united voices of a nation.
CIVIL WAR ERA DRAWINGS FROM THE BECKER COLLECTION
June 12 – August 10, 2014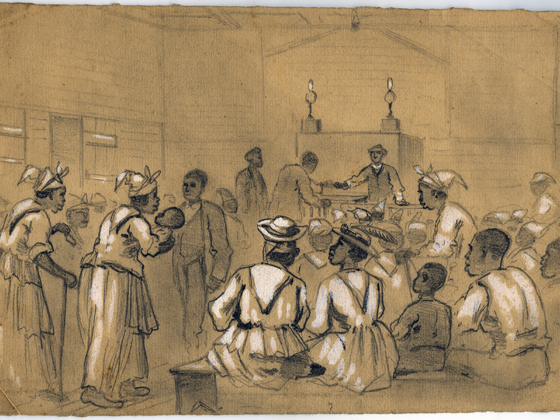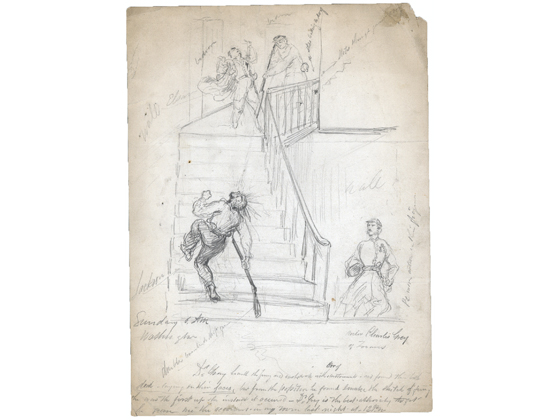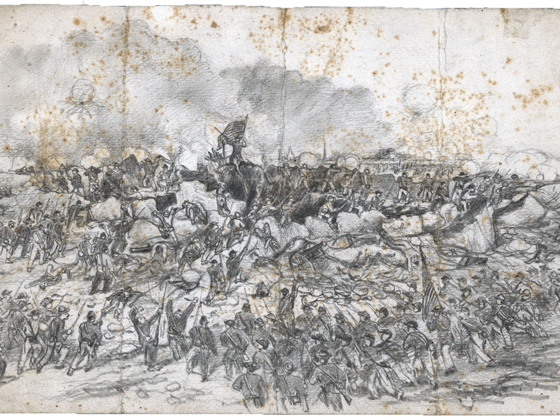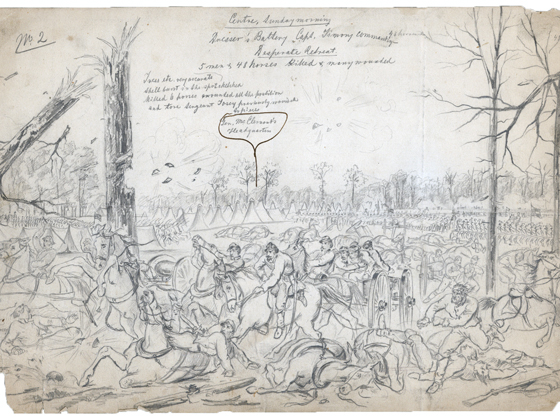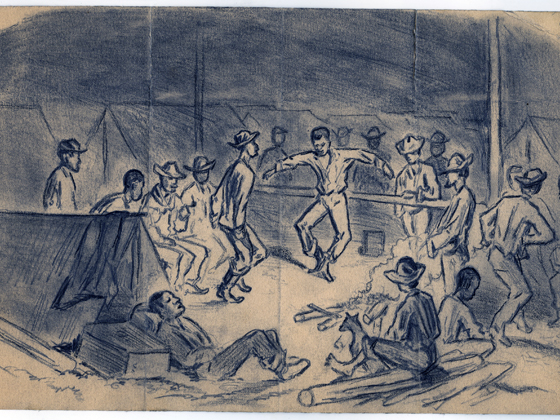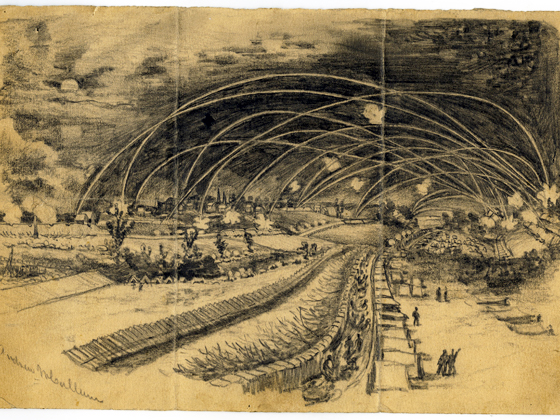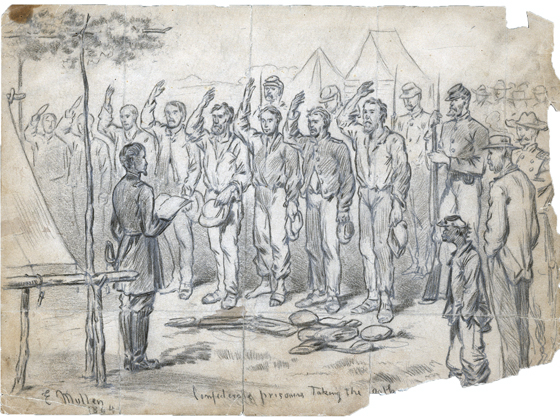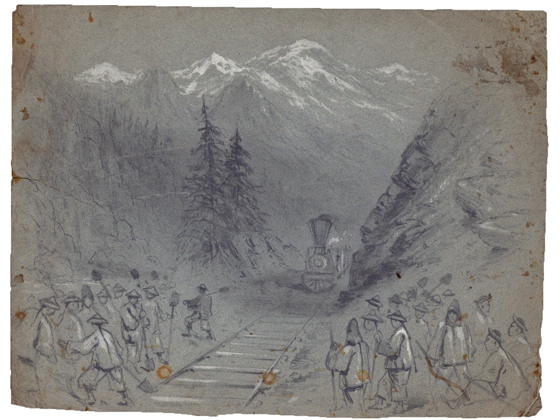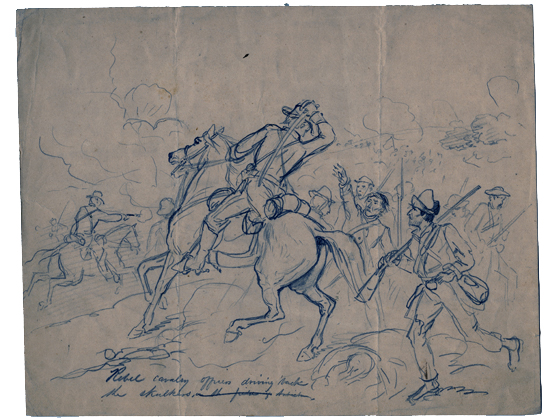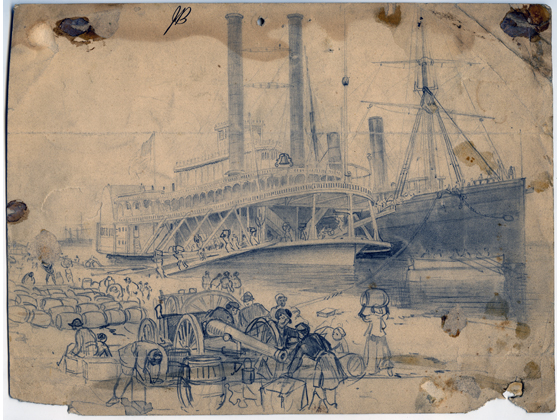 Curated by Sheila Gallagher and Judith Bookbinder
The Becker Archive contains approximately 650 hitherto unexhibited and undocumented drawings by Joseph Becker and his colleagues, nineteenth-century artists who worked as artist-reporters for Frank Leslie's Illustrated Newspaper observing, drawing, and sending back for publication images of the Civil War, the construction of the railroads, the laying of the transatlantic cable in Ireland, the Chinese in the West, the Indian wars, the Chicago fire, and other aspects of nineteenth-century American culture.
There has been no major exhibition or scholarly survey featuring Civil War drawings since the 1961 centennial, and at that time the Becker Collection had not yet come to light. Civil War Era Drawings from the Becker Collection is the first opportunity for scholars and enthusiasts to see selections from this important and unknown collection and appreciate these national treasures as artworks.
By creating accurate combat sketches drawn not from their imagination, but from close, on the spot observation, [civil war sketch artists] caught the action and evoked the drama of being there, in the midst of war. Their genius as visual reporters was expressed in their ability to identify the focal point of a scene quickly, blocking out the composition with telling details in minutes, and fleshing it out later that night while their memories were still fresh.
— Harry Katz, former Curator of Prints and Drawings of the Library of Congress
The "first-hand" drawings selected for this exhibition, most of which have never been published, document in lively and specific ways key developments in the history of America as it struggled to establish its national identity.
This exhibition is organized and circulated by Curatorial Assistance Traveling Exhibitions, Pasadena, CA.
WINDOW ON THE WEST: VIEWS FROM THE AMERICAN FRONTIER
February 13 – May 25, 2014
This exhibition is a trove of 60-some fascinating images rather than a collection of only well-known names. Sharing the spotlight with Bierstadt and Bodmer are works by anonymous or lesser-known artists who had in common one critical feature: they were among the first white men to cast an eye over the place depicted. These works speak to the verity of first impressions and the artists' attempts to capture both accurate form and a sense of place in the same work.

The exhibition celebrates the country's natural wonders (in works by John Henry Hill, John Kensett and Thomas Hill); the steady, unremarkable encroachment of settlements into once open territory (Walter Paris, Edmund Coleman and Jules Tavernier); and the individuals who populated the frontier as it moved westward (Alfred Jacob Miller, Frederick Remington and A.C. Redwood). These are the themes that form the nucleus of this unusual exhibition, which has already received popular and critical acclaim.
Where Children Sleep
September 5 – November 25, 2013
Where Children Sleep presents English-born photographer James Mollison's large-format photographs of children's bedrooms around the world--from the U.S.A., Mexico, Brazil, England, Italy, Israel and the West Bank, Kenya, Senegal, Lesotho, Nepal, China and India--alongside portraits of the children themselves. Each pair of photographs is accompanied by an extended caption that tells the story of each child: Kaya in Tokyo, whose proud mother spends $1,000 a month on her dresses; Bilal the Bedouin shepherd boy, who sleeps outdoors with his father's herd of goats; the Nepali girl Indira, who has worked in a granite quarry since she was three; and Ankhohxet, the Kraho boy who sleeps on the floor of a hut deep in the Amazon jungle. Photographed over two years with the support of Save the Children (Italy), Where Children Sleep is both a serious photo-essay for an adult audience, and also an educational book that engages children themselves in the lives of other children around the world. Its cover features a child's mobile printed in glow-in-the-dark ink.
James Mollison was born in Kenya in 1973 and grew up in England. After studying art and design at Oxford Brookes, and later film and photography at Newport School of Art and Design, he moved to Italy to work at Benetton's creative lab, Fabrica. His work has been widely published throughout the world in Colors, The New York Times Magazine, the Guardian magazine, The Paris Review, the New Yorker, Le Monde and elsewhere. His previous books published by Chris Boot include The Disciples (2008), The Memory of Pablo Escobar (2007) and James and Other Apes (2004). Mollison has lived in Venice since 2003.
Marc Chagall
June 27 – August 17, 2013
Marc Zaharovich Chagall (July 6, 1887 - March 28, 1985) was a Russian artist associated with several major artistic styles and one of the most successful artists of the 20th century. He was an early modernist, and created works in virtually every artistic medium, including painting, book illustrations, stained glass, stage sets, ceramic, tapestries and fine art prints.
Art critic Robert Hughes referred to Chagall as "the quintessential Jewish artist of the twentieth century". According to art historian Michael J. Lewis, Chagall was considered to be "the last survivor of the first generation of European modernists". For decades, he "had also been respected as the world's preeminent Jewish artist". Using the medium of stained glass, he produced windows for the cathedrals of Reims and Metz, windows for the UN, and the Jerusalem Windows in Israel. He also did large-scale paintings, including part of the ceiling of the Paris Opera.
Our upcoming show will feature lithographs from various private collectors.
EASTERN EUROPEAN WORKS FROM THE 16TH TO 19TH CENTURIES
February 14 – June 16, 2013
Winfred Rembert: Amazing Grace
September 27 – December 16, 2012
The art of Winfred Rembert, an African-American self-taught artist raised in 1950s rural Georgia, dramatically reflects moments in the South's civil rights- struggle and his own compelling personal narrative during this tumultuous time.
The Hudson River Museum presents the first major retrospective of his art on leather.
In more than 50 works on tooled leather stretched, stained, and etched Rembert constructs scenes from the rural southern town where he was born and raised, and peoples it with characters working the fields, joyous at church meetings, and enjoying its pool hall, jazz club, and cafe. His images are alive with figures and color, and dense with pattern. Some, more somber, convey the strife and grief of his own experiences of a near lynching and prison life.
Growing up in 1950s rural Georgia, Rembert did backbreaking labor in the cotton fields. A young man, he was arrested during a 1960s civil rights march and survived a near lynching. A prisoner serving a seven-year sentence, he learned to make pattern and design on leather by watching a fellow inmate make tooled leather wallets. Years later, adding color to tanned leather, Rembert depicted moments from his life and conjured a world of incredible brutality and close personal ties that existed in discomforting proximity. The exhibition's riveting themes include his Cotton Field series, where cotton balls snake relentlessly through rows of toiling field hands: Rembert said, "curved [cotton] rows make a beautiful pattern. But as soon as you start picking, you forget how good it looks and think how hard it is. There just isn't anything you can say about cotton that is good."
Amazing Grace, the first major museum exhibition of Rembert's work, incorporates historical photographs of places in Georgia, a documentary of his life by noted filmmaker Vivian Ducat, and gospel music both recorded and performed by Rembert in the Hudson River Museum galleries on several dates. Music, pivotal in Rembert's life and art, and has contributed to his success as a mentor to young people.
Organized by the Hudson River Museum and curated by Bartholomew F. Bland, the show, is accompanied by an illustrated catalogue of essays by Bland, Director of Curatorial Affairs; Roger Panetta, History Professor, Fordham University; Ellen Keiter, Curator of Contemporary Art, Katonah Museum of Art; Fordham University Ph.D. candidate Clifton Watson, and Irma Watkins-Owens, Associate Professor, African and African American Studies, Fordham University.
REFLECTIONS ON WATER IN AMERICAN PAINTING
July 4 – September 16, 2012
From its beginning, America's history has been intertwined with the oceans that surround it and the rivers that cut across its vast landscape. Waterways opened the continent for exploration and the inland commerce that followed. The fall of rivers and accessibility of natural harbor basins dictated the locations of many major cities. Over the centuries these waterways, and the network of canals created to connect them, were traveled by a diverse array of vessels ranging from small personal craft, purely utilitarian cargo rafts, paddlewheel ferries, majestic sailing ships to state-of-the-art steamboats, their evolution paralleling the technological advancement and expansion of the young nation they navigated.
The 50 paintings from the Arthur J. Phelan Collection trace more than a century of America's maritime and seaside history, transporting us from one ocean on the East to the other side of the country. Ranging in date from 1828 to 1945, the masterful rendering of sailboats, warships, waterside towns, waterscapes, harbor scenes and the playful portrayals of beach life encapsulate all facets of life on and by the water. They document changing trends in transportation and record economic shifts as inland maritime commerce slowly diminished in the wake of railroad expansion and the use of harbors was taken over by the leisure class escaping urban summer heat. The works also illustrate varying artistic currents that shaped American art. Represented are grand academic-style portraits of graceful naval ships and waterscapes from the sea to the American heartland, light-flooded impressionist visions of quaint seaside towns, and modernist renderings of industrialization and every-day life.
Reflections on Water is an homage to America's oceans, rivers, lakes and harbors; to the ships that navigated them from exploration, trade and pleasure; to the towns and the cities that depended on their steady flow; to the people who built their existence upon them; and to the artists who took inspiration from the beauty and timeless attraction of water.
Reflections on Water in American Painting is presented by Exhibits Development Group.
CLYDE BUTCHER, AMERICA THE BEAUTIFUL
September 22 – December 18, 2011
Clyde Butcher's monumental photographs celebrate the beauty of the American landscape. Their scale and extraordinary clarity set them apart as exceptional works of art. In the tradition of the nineteenth-century Hudson River School painters, Butcher composes his works as pristine and untarnished locations across the United States creating arresting arresting compositions that distinctly mark him as the foremost landscape photographer in America today.

WORK FEATURING SAFARI WILDLIFE ARTIST CRAIG BONE
May 26 – September 18, 2011
Craig Bone was born in Salisbury, Rhodesia in 1955. He studied Graphic Art at Natal University in South Africa. In 1973 Craig returned to Rhodesia to perform his National Service in the Rhodesian Light Infantry. During this time he painted vivid scenes of combat and was totally immersed in the war. Craig was severely wounded by a mortar attack, which almost cost him his legs and his life, subsequently his focus turned to painting full time. Craig has since devoted his time, energy and skills to helping various organizations and charities.
Craig's strong sense of community spirit and his passion for the military has encouraged him to support veteran programs throughout the United States and in Zimbabwe. Most recently, Craig has raised over $100,000 for the Safari Club International Veterans Committee which supports soldiers from Vietnam, Afghanistan, and Iraqi battlefields who have been wounded during active duty. His painting, entitled "Earth, Wind and Fire," is a depiction of the reality of the Vietnam War and honors the sacrifice of American soldiers. This work of art presently hangs in the Pentagon. Craig is currently working on similar projects connected to the Iraq and Afghanistan War.
Craig has been awarded the Safari Club Medal of Valor for his consistent support and dedication to the Veteran's Committee, and in 2003, Craig was also awarded the Safari Club International Wildlife Artist of the year. Due to his obvious passion and support of veteran programs, Craig was honored to participate in the official opening of Fort Bragg's Airborne and Special Operations Museum in North Carolina. Within his own community, Craig has volunteered his time to the Cancer center Health park of Fort Myers, Florida.
Recently, Craig was approached and commissioned to paint a portrait of the Zulu King, GoodwillZwelithini KaBhekuzulu, the reigning king of Zululand.
To date he has illustrated several books and is presently working on his latest project, a poetry book on the Zulus.
ASSOCIATED AMERICAN ARTISTS
January 27 – May 1, 2011
In March of 1933, many of the banks in America were closed. The country was gripped by an economic depression and the emotional climate of the American people was also at an all time low. Art dealer Reeves Lewenthal chose this time in history to form the Associated American Artists organization. Lewenthal's plan was to develop a new program that could distribute affordable, original art to every American. Artists, weary of working within the confined audience of wealthy collectors, gladly committed themselves to the idea of a wider distribution. These artists based their art on social imagery, on everyday America. They left behind abstract theories in favor of the familiar scenery of our country. The program was an overwhelming success. Yes, it was true; people did need bread to nourish their bodies, but it was proven that they hungered for beauty and spiritual nourishments as well. Art fed their souls.
Contents: Seventy-two framed works; lithographs, etchings, wood engravings, aquatints, mezzotints and Associated American Artists catalogs from the Springfield Museum of Art
COLONIAL COUTURE: CELEBRATING THE WORK OF LINDA LEYENDECKER-GUTIERREZ
October 16 – November 28, 2010
The dazzling gowns seen on the stage the night of the annual Society of Martha Washington Colonial Pageant did not happen overnight. They each had their beginning first as a vision that become a sketch, then swathes of material draped on a mannequin and eventually after many hours of sewing and beading become the gorgeous gowns appreciated by audiences who each year expect to be dazzled. These gowns, created by Linda Leyendecker-Gutierrez, will be on display at the Citadelle from October 16, 2010 through November.

Linda Leyendecker Gutierrez lives and works a few blocks from the Rio Grande and traces her lineage in two branches - from one of this Spanish colonial city's oldest families and to Revolutionary War orator Patrick Henry.
The dresses designed by Gutierrez and others weigh up to 80 pounds, supported by a lattice of hoops, and may have flourishes of beading and lace from all over the world.
IN FOCUS: NATIONAL GEOGRAPHIC GREATEST PORTRAITS
July 29 – October 10, 2010
"In Focus: National Geographic Greatest Portraits," an exhibition consisting of 56 striking color and black-and-white photographs, showcases photographs from the book "In Focus: National Geographic Greatest Portraits," which was published in October 2004 as a sequel to the New York Times bestseller "Through the Lens: National Geographic Greatest Portraits."
The exhibition highlights the work of some of National Geographic's most celebrated photographers. National Geographic photographers have taken more pictures of people than of any other subject, indicating "a photographer's desire to connect with people--to capture something consequential about another person," wrote National Geographic magazine associate editor Chris Johns in his forward. "To capture the spirit and essence of other human beings is a challenge beyond measure, but when it happens and the photograph comes together, the creation brings joy."
The show will open July 29, 2010 and will run through October 10, 2010. The Citadelle is open Thursday through Saturday, 11 a.m. to 4 p.m., and Sunday, 1 to 4 p.m. Museum admission is $10 adults; $8 for seniors 65+; and 18 and under are free.
MARY CASSATT, AN AMERICAN IN PARIS: IMAGES OF QUIETUDE AND REFLECTION
June 5 – July 25, 2010
Opening this next weekend on June 5th, The Citadelle Art Foundation will host a rare collection of 33 works on paper by American painter and printmaker Mary Stevenson Cassatt which have never been viewed together. Titled "Mary Cassatt, An American in Paris: Images of Quietude and Reflection," the exhibition includes dry-point and aquatints from a private collector who chose The Gallery at The Citadelle for the collection's debut. Also on display is a rare collection of pastel counter proofs from Adelson Galleries in Manhattan. The works will be on view at The Citadelle from June 5th to July 26th.
Mary Cassatt (May 22, 1844-June 14, 1926) was born in Allegheny City, Pennsylvania, but spent most of her adult life in France, where she became friends with Edgar Degas, who influenced her life considerably by introducing her to etching, of which he is considered a master. Cassatt was one of only a few women who exhibited among the Impressionists, who included, among others, Edgar Degas, Pierre-Auguste Renoir and Paul Cezanne.
The Cassatt counterproofs on view are from the personal collection of Ambroise Vollard, and are considered highly prized. The exhibition includes compositions that will be new to even the most enthusiastic Cassatt admirer, as a few of them were made from some of her unrecorded pastels.
Ambroise Vollard, best known as the first dealer to actively promote the works of Paul Cezanne (1839-1906) and Pablo Picasso (1881-1973), was Cassatt's major art dealer during her career and encouraged Cassatt to experiment in print-making, including counterproofs. A counterproof is created by placing a damp sheet of blank paper over an artwork, such as a pastel or a wet etching, and applying pressure, usually by running the sheets through the printing press. The pressure causes a mirror impression of the original image to be transferred to the moist paper. Thus, the damp sheet that was laid over and pressed against Cassatt's original pastel (Plate I) becomes imprinted with the counterproof image that is now illustrated as Plate II. Cassatt treasured this counterproof process as she was unable to duplicate their ethereal quality from her own hand. Until recently, relatively few counterproofs of Cassatt's pastels were known.
As popular as they may be, Cassatt's works on paper are rarely placed on public display. "The chance to see such an amazing collection of works at The Citadelle Art Foundation, including those of a little-known aspect of Cassatt's career, is a once-in-a-lifetime opportunity," said CAF Director Wendie Cook. She also noted that the Cassatt show is probably the most valuable exhibit the Foundation will ever produce.
An opening reception will be held on Saturday, June 5, from 5 to 7 p.m., which also coincides with the first birthday of The Citadelle Art Foundation. The cost is $20 per person, $15 per member. Reservations are requested. Call 806.323.8899. The Citadelle is open Thursday through Saturday, 11 a.m. to 4 p.m., and Sunday, 1 to 4 p.m. Museum admission is $10 adults; $8 for seniors 65+; and 18 and under are free. For more information log on to www.thecitadelle.org.
SILVER LINING: EMOTION IN THE SKY
April 3 – May 16, 2010
The Citadelle Art Foundation announces the opening of Silver Lining: Emotion in the Sky. The exhibition will feature selections from Angus Macpherson and several other impressionist painters. On loan from Gallery KH in Chicago, the show opens April 3, 2010 and will run through May 16, 2010.
At right: Before September by Angus Macpherson
RANGE OF PASSION: ARTISTS' LOVE AFFAIR WITH THE AMERICAN WEST
February 11 – March 21, 2010
The Citadelle Art Foundation announces the opening of Range of Passion: Artists' Love Affair with the American West. The exhibition will feature selections from Xiang Zhang. The show opens February 11, 2010 and will run through March.
Join us for the Opening Reception February 13, 2010 from 5-7pm for hors d'ouevres, wine, and a live harpist. Cost is $30 per couple, members are free. Reservations requested - 806.323.8899.
MOTHER AND CHILD: From the Collection of Dr. and Mrs. Malouf Abraham
December 3, 2009 – February 7, 2010
The Citadelle Art Foundation announces the opening of Mother and Child. The exhibition includes selections from the permanent collection of Dr. and Mrs. Malouf Abraham. The show continues through February 7, 2010.
SUPER REAL: DIFFERENT ANGLES OF PHOTOREALISM
October 15 – November 29, 2009

On loan from the J. Cacciola Gallery, New York

The Citadelle Art Foundation announces the opening of SUPER REAL: Different Angles of Photorealism. The exhibition includes selections from renowned photorealists Scott Fraser, Gary Godbee, Ellen Wagener, and Dennis Wojtkiewicz. The exhibition is on loan from J Cacciola Gallery in New York, NY. The show continues through November 29, 2009
The formal opening will be October 17 with artist Ellen Wagener in attendance from 1 - 3 for a drawing demonstration and instruction for all ages. Other activities for kids will be painting on pumpkins, leaf rubbing and a gallery hunt. Following the daytime activities, Ms. Wagener will give an informal artist talk in the new gallery with complimentary wine and cheese at 6:30 - all for the price of admission!
On Saturday the 17th & Sunday the 18th, tours of the Abraham home Hill Crest will be available for an additional fee of $10. All proceeds from the tour directly benefit the Citadelle Art Foundation to support our mission. Our mission is to provide a sanctuary for all art forms celebrating life through art.
Admission is $10; 65 and older $5 and children 18 or younger are FREE. The Citadelle hours are Thursday - Saturday, 11 - 4 & Sunday 1 - 4.
J.C. LEYENDECKER: AMERICA'S ''OTHER'' ILLUSTRATOR COMES TO CANADIAN
May 21 – September 27, 2009
Organized by The Haggin Museum, Stockton, California
Before Norman Rockwell, there was J.C. Leyendecker - arguably the nation's most popular and successful commercial artist of the first four decades of the 20th century. The Haggin Museum's collection of more than 50 original works by Leyendecker represents the largest held by any museum and will go on display along with The Citadelle Art Foundation's three original Leyendeckers in this special exhibition. The show, arriving in Canadian, Texas on May 31, 2009, will also include more than two dozen sketches, magazine covers, advertisements and photos. Admission is only $10.00 for adults.

Joseph Christian Leyendecker (1874-1951) was born in Germany and came to Chicago as a child in 1882. He apprenticed at the Chicago engraving house of J. Manz & Company, where he advanced to a full-time position as staff artist, while attending the Chicago Art Institute. He studied in Paris for two years at Academie Julian, under the tutelage of Jean Paul Laurens and Benjamin Constant. The famous neo-classical artist Adolphe Bouguereau then directed the school, and Leyendecker was considered by all three masters to be the brightest student at the Academie. Leyendecker learned, while in Paris, that a good artist could have a rewarding and lucrative career as an illustrator and decided to devote himself to that pursuit; he seldom deviated from his chosen field throughout his long career.
Between 1898 and 1918 Leyendecker created forty-eight cover paintings for COLLIER'S magazine, and in 1899 the artist executed his first SATURDAY EVENING POST cover. It was the first of the 322 covers he would produce for the magazine, more than any other artist working for the SATURDAY EVENING POST, including Norman Rockwell. His popularity was due to his ability to convey the essence of both everyday life in America and international events through paintings that reflected his unique sense of drama, romanticism, and humor. In 1905 he received his most important commission when hired by Cluett, Peabody & Company, Inc., which manufactured Arrow Brand shirt collars. The ''Arrow Collar Man'', as well as the images he created for Kuppenheimer Suits and Inter-woven Socks, soon came to define the fashionable American male of the early 20th century. As part of an advertising campaign for Kellogg's Corn Flakes, Leyendecker created a series of children's images that are as winsome and winning today as when they were created more than 90 years ago.